Thriving in Sobriety: Navigating Recovery in the Workplace
Getting help for an alcohol or drug use problem is a bold move toward regaining control of your life. Addiction can profoundly impact your physical health, mental well-being, relationships, and job performance. However, it's important to remember that treatment is just the beginning of the recovery journey. Navigating sobriety, especially in the workplace, presents its own unique set of challenges and opportunities.
This article will explore strategies for thriving in sobriety while maintaining a successful and fulfilling career.
How to Navigate the Workplace Sober

The sad reality is that life does not stop to accommodate our pursuit of recovery, and neither does work. After treatment, you'll still need to deal with the job stressors and create new rhythms in old environments. Not only that. The high expectations of professionalism and work boundaries make it hard to know how vulnerable to be, who to trust and whether it's appropriate to share your recovery journey.
Even so, you should know that your health comes first. If you cannot healthily pursue your recovery in your workplace, it may be necessary to explore alternative options. Today, 86% of employers prioritize workforce mental health, and 26% have adopted a well-being strategy.
Should you Disclose your Recovery Status?
One of the first decisions you may face upon returning to work is whether or not to disclose your recovery status. But this is a personal decision that requires careful consideration. Take time to weigh the potential benefits and risks first. You want to assess your work environment and determine the culture and attitudes toward addiction and recovery and whether there are policies in place to protect individuals in recovery.
Potential Benefits
Sharing your journey with trusted colleagues or supervisors can provide a support network within the workplace. It allows them to understand your needs and challenges better, potentially leading to increased empathy and support.
Disclosing your recovery status demonstrates your commitment to your sobriety and personal growth. It can help establish trust and open lines of communication, which may be beneficial for maintaining your workplace recovery. If you're in a recovery-friendly workplace, you may gain access to resources and accommodations that can support your addiction recovery. This might include employee assistance programs, flexible work arrangements, or the ability to attend recovery-related meetings or appointments.
Potential Risk
Unfortunately, there is still a negative stigma attached to addiction and recovery. Disclosing your recovery status may subject you to judgment, stereotypes, or discrimination from colleagues or supervisors who may not fully understand or support your journey.
Although there are legal protections in place, there is a possibility of negative professional consequences. This could include changes in job assignments, biased treatment, or missed career opportunities due to the stigma associated with addiction.
If you choose to disclose, consider doing so selectively and strategically, starting with a trusted colleague or supervisor. Remember that your well-being should be the priority, and it's important to prioritize self-care and create a support system outside of work, regardless of whether or not you disclose your recovery status.
Prioritize Self-Care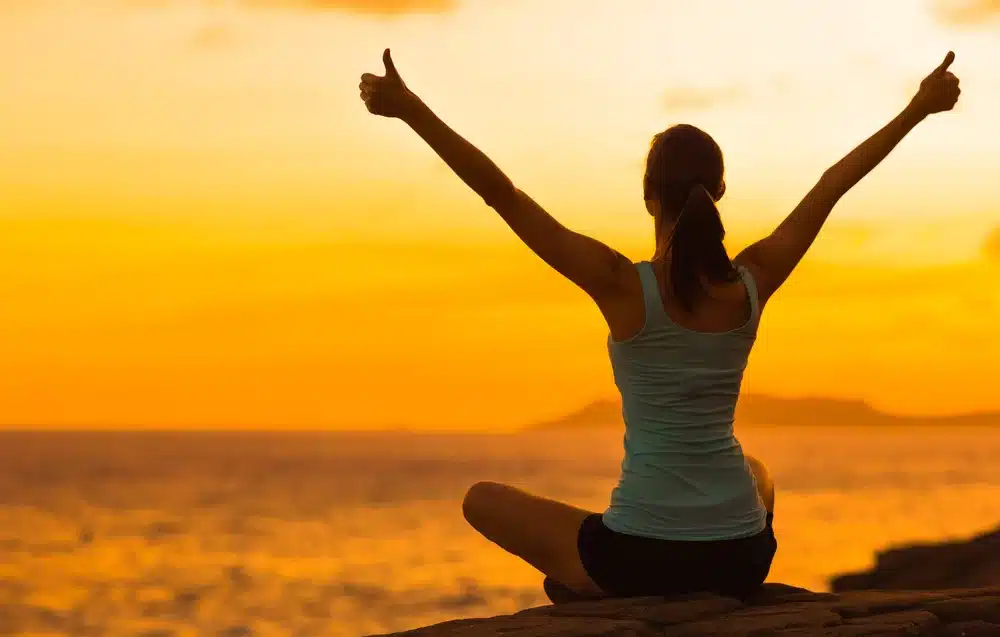 Make your physical, mental, and emotional well-being a top priority. Take breaks throughout your workday to relax and recharge. Take advantage of these moments to engage in activities like taking a short walk, deep breathing exercises or listening to calming music.
You also want to eat enough food and get a good night's sleep so you're strong enough to deal with life stressors. Taking care of yourself will provide a strong foundation for navigating workplace challenges.
Set Healthy Boundaries
Establish clear boundaries to protect your sobriety and well-being. To do so, you'll first need to assess your physical and mental health needs (consider the activities or situations that may impact your recovery negatively). Then communicate these to your colleagues, supervisors and even the HR department and be honest about what you need to support your recovery.
You also want to say no to activities that may trigger drug or alcohol use. For example, you can turn down offers to go to a job party that includes drugs or resist the urge to discuss work-related matters in your free time unless it's urgent. The latter can aid in work-life balance, which is critical in recovery.
Build a Support System
Intentionally surround yourself with a supportive network both inside and outside of work. Having colleagues who understand your journey and can offer encouragement and guidance can have a huge impact on your mood. It can also prevent feelings of self-doubt, shame and criticism that may trigger unhealthy coping habits.
Still, on a support system, you may leverage the support of your loved ones, too, especially if you're struggling to work after rehab. If they own a business, they may offer employment. And if they're employed, they may ask about opportunities in their workplace. Sometimes, working with a family member, or loved one can be less stressful than a stranger.
Assess Workplace Triggers
Identify any specific triggers in your workplace that may tempt you to use substances or affect your recovery. It could be certain colleagues, stress-inducing tasks, or specific environments. Once you've identified these triggers, develop coping strategies to deal with them effectively. This may involve seeking support, practicing mindfulness, or finding alternative stress management methods.
Focus on Professional Growth
Above all else, you can engage in career development opportunities to enhance your skills and knowledge. Doing so can help boost your confidence and sense of accomplishment, which is a positive focus outside of your recovery. Set goals for your professional growth and work towards them. You'll be impressed by how much this will give you a sense of purpose and fulfillment.
Engage in Sober Activities
Seek out activities and hobbies that don't involve alcohol or substances. Explore new interests, join clubs or organizations, or participate in community events that align with your values and interests. Surrounding yourself with like-minded individuals can reinforce your commitment to a sober lifestyle.
Seek Confidential Support at Work
If your workplace has an Employee Assistance Program (EAP), take advantage of it. EAPs provide confidential counseling, resources, and support for employees dealing with various challenges, including addiction. Alternatively, you can seek support from your rehab. Talk to your treatment team about the challenges you anticipate so they can offer guidance on how to navigate them.
Recovery is a personal journey, and each individual's experience may differ. However, with the right strategies and support, it is possible to reclaim control of your life and thrive in sobriety. If you're still having a hard time, consider reaching out to More than Rehab. Our team is here to support you on your journey to reclaiming control of your life and embracing a brighter future in sobriety.
Remember, you are not alone; recovery is possible with the right help and support. Give us a call today. We are available 24/7, 365 days a year.