The Role of Family Therapy in Successful Addiction Recovery
Addiction does not just affect the person struggling with substance abuse but their loved ones as well. When a person abuses drugs or alcohol, their family and friends often experience a ripple effect of negative consequences. The communication breakdown, betrayal, neglected responsibilities, financial strain, and emotional & physical turmoil can strain relationships, erode trust, and create a significant rift between family and their loved ones. Family therapy is an important component of addiction treatment for these reasons.
Sadly, these effects can linger even in addiction recovery. Family members may continue to carry the emotional wounds and resentments caused by addiction. Trust may be fragile, and they may struggle with ongoing communication challenges and unresolved conflicts. They might not assume healthy roles and behavior to encourage and support recovery in this state. That's why family therapy is important.
What is Family Therapy?
Family therapy, also known as family counseling or systemic therapy, is a form of psychotherapy that focuses on improving the functioning and well-being of a family unit. It addresses the interpersonal dynamics, communication issues, and relationships among family members, with the aim of healing relationships, enhancing understanding, and promoting positive change. The therapy process involves all or most family members attending sessions together, although sometimes individual sessions may also be included.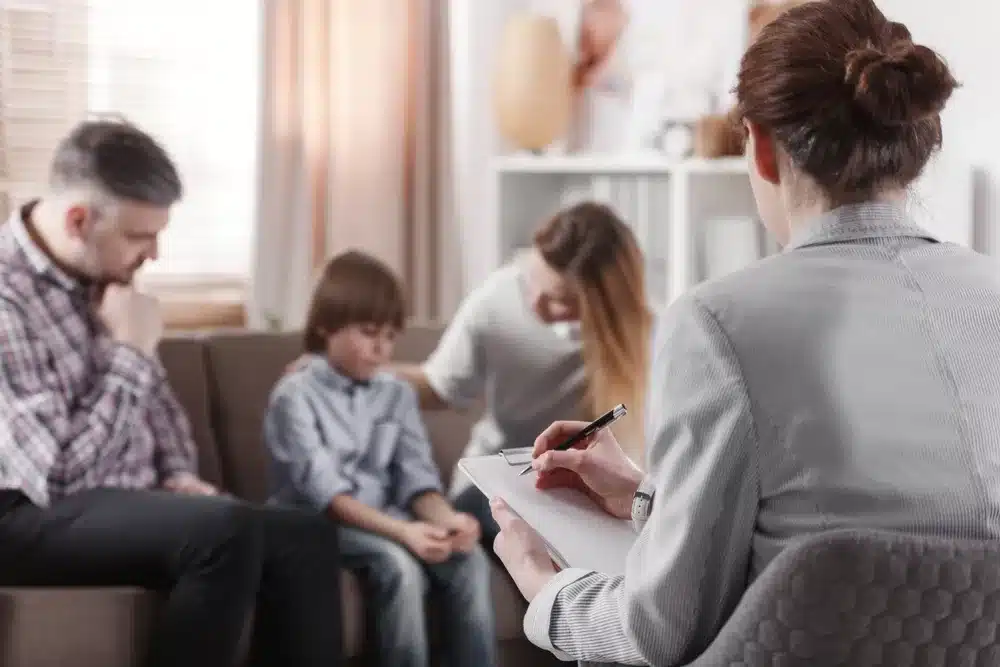 Practices in Family Therapy
Family group therapy rebuilds rifts between loved ones. A therapist may use different therapy models, including:
Cognitive Behavioral Therapy (CBT)
Role-playing
Journaling
Communication techniques
Open emotional expression
Restructuring of dynamics
Increase family connection
Integrating holistic care to support growth
Offering step-by-step guide for improving relationships
Letter writing
Why is Family Therapy Important in Recovery?
Family therapy plays a significant role in recovery by providing support, education, and intervention for individuals and families facing various challenges.
Education and Awareness
Therapy can play a vital role in addressing misconceptions surrounding addiction. One common misconception is the belief that addiction is solely a moral failing or a result of weak willpower. Family members may harbor judgment or blame towards their loved one, perceiving their addiction or relapse as a character flaw rather than a disease.
Education and awareness about addiction as a disease help family members overcome stigma and judgment. They come to recognize that addiction is not a choice but a medical condition that requires treatment and support. This understanding promotes empathy, compassion, and patience within the family system.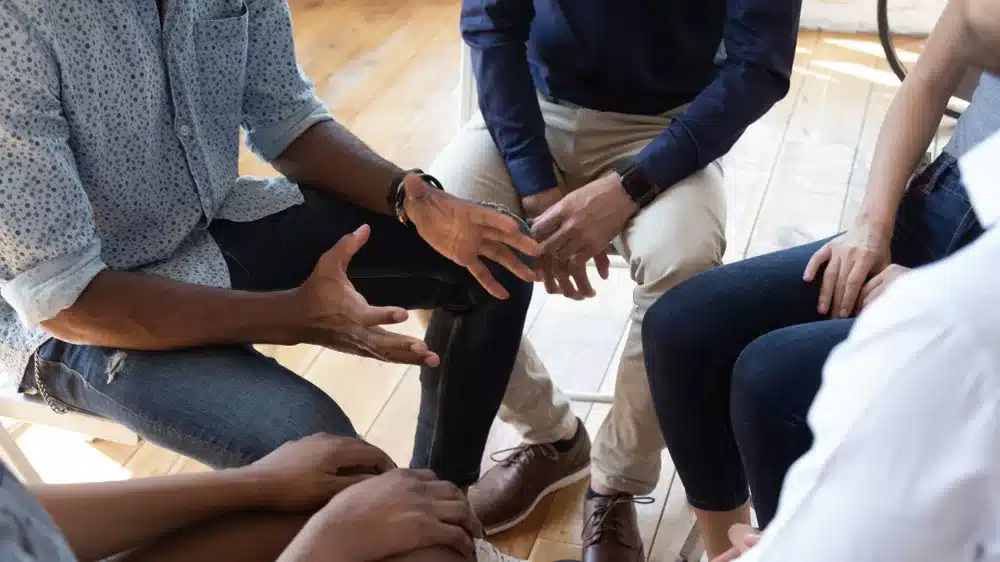 Addresses Co-Occurring Issues
Co-occurring issues are mental disorders that often co-exist with substance use disorders. According to studies, 53% of drug and 37% of alcohol users also have at least one serious mental illness. And family plays a big role in mental health and addiction, so this type of therapy becomes crucial in addressing these co-occurring issues.
Utilizing this type of therapy can help family members understand the impact of family dynamics on mental health and addiction. This can, in turn, encourage families to create a nurturing and empowering environment for their loved ones to recover and thrive.
Encourages Family Involvement
One of the key principles of family therapy is the encouragement of family involvement, which means involving all family unit members in the therapeutic strategies. This approach recognizes that issues within a family are often influenced by the dynamics and relationships among its members, and therefore, involving everyone is crucial for effective intervention and healing. These therapy sessions will encourage family involvement through family sessions, active participation, collaborative problem-solving, psychoeducation, and homework assignments.
Improved treatment retention
Family group therapy helps create a supportive environment where family members actively engage in treatment. Their involvement and support can significantly enhance an individual's motivation to stay in addiction treatment and work toward recovery. Knowing that their family members are invested in their well-being and actively participating in therapy can give the individual a sense of purpose and support, increasing their commitment to the treatment program. Besides, family members can provide ongoing encouragement and reinforcement, positively impacting the individual's commitment to treatment and overall recovery.
Creates a Supportive Environment
Therapy with family present can also emphasize the importance of their support in the recovery process. It helps family members recognize their role in supporting their loved ones, providing them with tools and resources to create a nurturing and conducive environment for healing. This supportive atmosphere helps individuals feel understood, validated, and less alone in their recovery.
Improves Communication and Conflict Resolution Skills
Addiction or mental health issues can strain relationships, create misunderstandings, and lead to unhealthy communication patterns. Therapy provides a structured and supportive environment to address these challenges effectively.
During therapy sessions, family members learn valuable communication skills that foster understanding, empathy, and active listening. They also learn how to constructively express their thoughts, feelings, and concerns. This allows them to express their support better, establish boundaries, and navigate sensitive topics related to their loved one's recovery.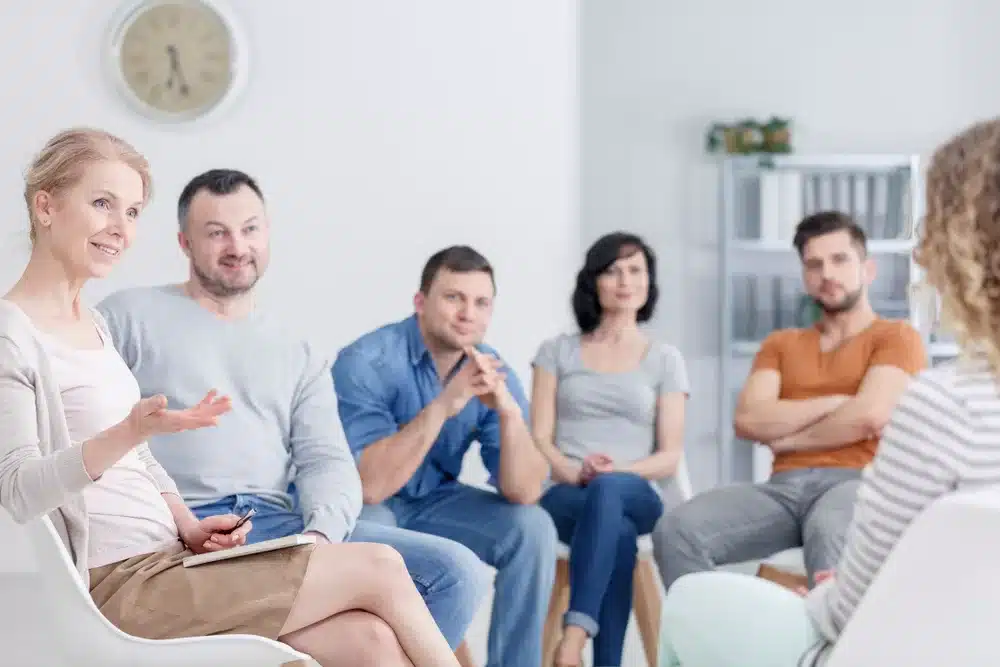 Safe Space for Family Members
This type of therapy provides a safe and supportive space where family members can express their emotions, concerns, and experiences related to addiction. It allows them to openly discuss the impact of addiction without fear of judgment or repercussions. Family members can share their struggles, frustrations, and fears and gain insight into their loved one's experiences and challenges. This safe space encourages open and honest communication, fostering understanding, empathy, and emotional healing within the family unit.
Preventing Relapse and Sustaining Recovery
Family support and involvement are crucial for preventing relapse and supporting sustained recovery. In family therapy, family members can learn about addiction, its triggers, and warning signs of relapse. They can also develop skills and strategies to support their loved one's recovery, such as creating a structured and supportive home environment, understanding relapse as part of the process, and encouraging healthy coping mechanisms. Family group therapy helps families become active in the recovery journey, increasing the chances of long-term success.
Family therapy is widely recognized as a valuable component of rehabilitation services and recovery. It acknowledges the impact that addiction has on the entire family system and emphasizes the importance of family support in the healing process. At More Than Rehab, we understand this importance and offer family group therapy as part of our services.
Family group therapy provides a supportive and inclusive environment where family members can actively participate in the treatment and healing journey. By involving the family, More Than Rehab acknowledges the vital role that family support plays in promoting lasting recovery. If you are interested in learning more about our specific approach to family group therapy and the comprehensive services we provide, contact us today.