Recovery comes with its fair share of challenges. Obstacles like difficult emotions, cravings, relationship issues, money problems, loneliness, boredom, mental health issues, relapse, etc., can take a toll on even the strongest person. That's why people in addiction recovery go through therapy, among other supportive measures, to help them overcome these challenges.
But not everyone in recovery can or wants to express their experiences and emotions verbally. Some prefer to use other means, like art. They want to paint, draw, sculpt, or dance to externalize and process their emotions, anxieties, and trauma. The creative process becomes a language that transcends words, allowing them to communicate and dive into their innermost thoughts and feelings. It allows them to:
Work through trauma and difficult life experiences
Develop self-awareness and confidence
Conceptualize what triggers their addictive behavior
What is Art Therapy?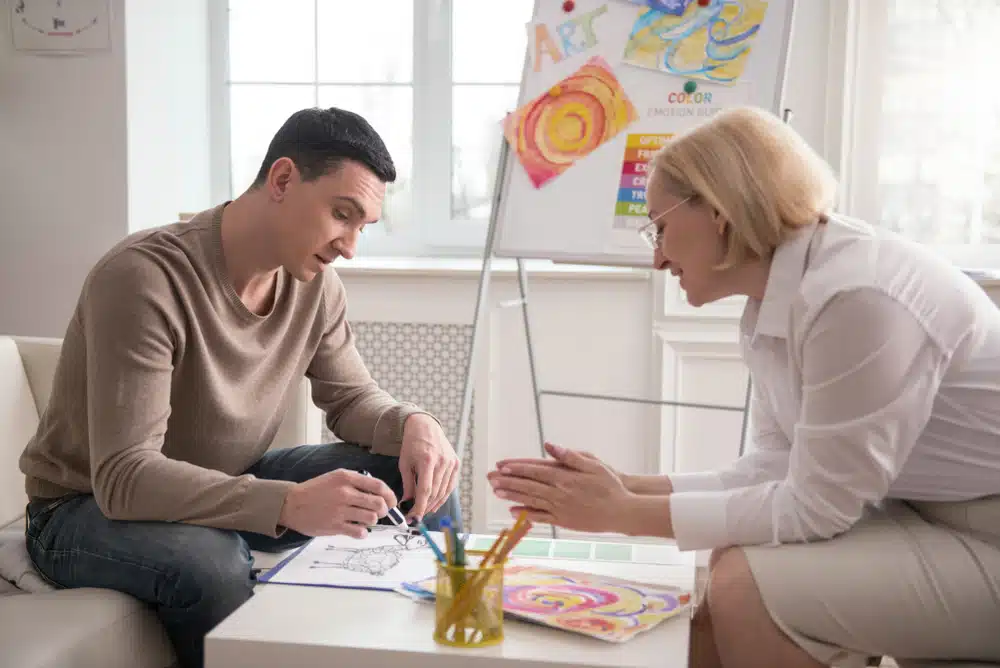 Art therapy is a form of psychotherapy that uses the creative art-making process to promote healing, personal growth, and well-being. It combines psychological principles with artistic techniques to support individuals in exploring their emotions, thoughts, and experiences. Art therapy is facilitated by trained professional art therapists with expertise in art and psychology.
Art therapy can be used with traditional therapies like Dialectical Behavior therapy (DBT) and Cognitive Behavioral Therapy (CBT), offering a more creative outlet for experiences and emotions. It can also be used in group therapy sessions to foster trust and bonding, as it offers a non-threatening way for members to share their feelings openly.
How Art Therapy Works
During art therapy sessions, you will be encouraged to engage in various creative outlets like collage making, painting, drawing and sketching, movement, or dance. But the focus won't be on creating artistic or aesthetically pleasing works. Instead, it will be on the creation process and the emerging emotional expression.
You do not need any skills to participate in art therapy. For example, you don't have to know painting to practice painting therapy. However, it's important to note that some approaches, like drama and dance, for instance, can be more overwhelming than journaling when you're new to therapy. But that shouldn't worry you, as your therapist will determine the most appropriate form of expression based on their understanding of your needs, tolerance level, sensitivity, and general readiness.
Creative Arts Therapy Vs. Expressive Arts Therapy
Both creative and expressive arts therapy are umbrella terms encompassing various therapeutic approaches that use the arts as a means of expression and healing. However, there are slight differences in their focus and scope:
Creative arts therapy is a broader term encompassing different therapy modalities, including art therapy, music therapy, dance/movement therapy, drama therapy, and poetry therapy. Each modality focuses on a specific art form and uses it as a therapeutic medium. Creative arts therapy recognizes and uses the unique qualities of each art form to support healing and personal growth.
In contrast, expressive art therapy is a more integrative approach that blends multiple art forms within a single therapeutic session or process. It encourages those in recovery to engage in various creative expressions, such as visual art, music, movement, drama, and writing, often in a spontaneous and fluid manner. Expressive arts therapy emphasizes the integration and interplay between different art forms to facilitate exploration, expression, active participation, and mind-body connection.

How Art Therapy Helps in Addiction Substance Abuse Recovery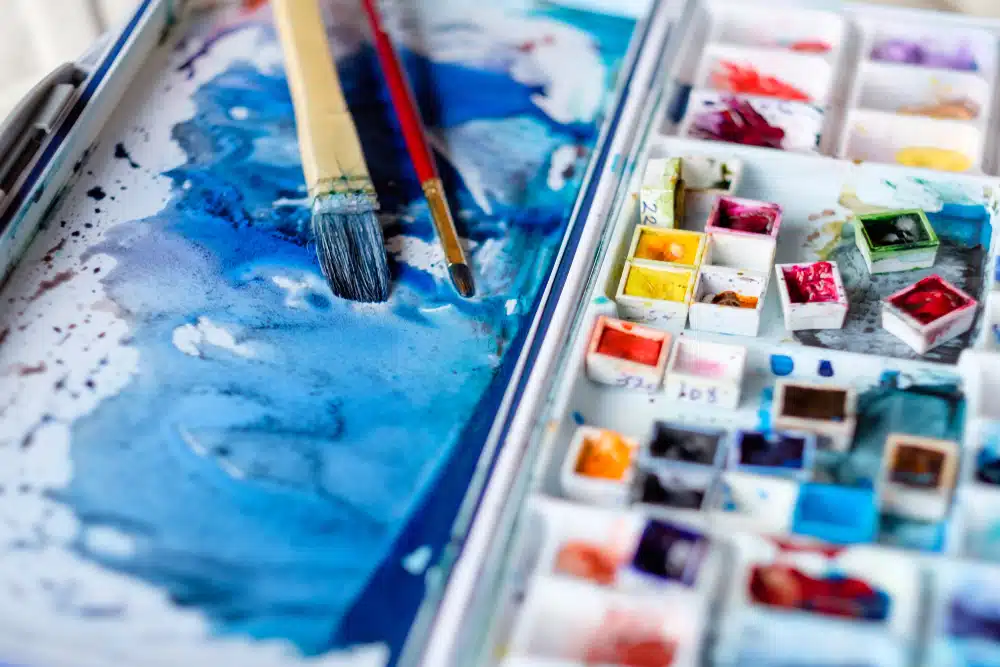 Art therapy can provide valuable support and healing benefits to individuals in addiction recovery. Here's how art therapy can help you in your recovery journey:
Emotional Expression and Release
Art therapy allows you to express and release intense emotions that are often difficult to put into words. You can visually represent your emotions, experiences, and struggles through the creative process. This provides a safe outlet for pent-up feelings and allows you to release and process them healthily and constructively.
Self-Exploration and Insight
Art therapy encourages you to explore your inner world and gain deeper insights into yourself. It lets you tap into your subconscious thoughts, emotions, and memories and uncover underlying issues and patterns that may have contributed to your addiction. Art therapy provides an opportunity for self-reflection, understanding, and personal growth.
Coping Skills Development
Art therapy helps you develop new coping skills and strategies for managing triggers and cravings. The creative process allows you to experiment with different approaches, problem-solving techniques, and alternative ways of expressing yourself. As you engage in art therapy, you can discover healthy outlets for stress, anxiety, and negative emotions, empowering you to navigate challenging situations in recovery.
Self-Esteem and Empowerment
Art therapy can boost your self-esteem and empower you in your recovery journey. As you create art and witness your progress, you gain a sense of achievement and confidence in your abilities. Artistic expression provides tangible evidence of your growth, reminding you of your strengths, resilience, and capacity for change.
Building a Positive Identity
Art therapy helps you explore and develop a positive and authentic identity beyond addiction. You can discover or reconnect with your interests, passions, and values and redefine yourself to focus on aspects of your life that bring joy, purpose, and fulfillment. Art therapy supports you in building a new and meaningful identity rooted in your strengths and aspirations.
Mindfulness and Stress Reduction
Engaging in art therapy promotes mindfulness and helps you stay present in the moment. As you immerse yourself in mindfulness practices, you become more attuned to your thoughts, feelings, and sensations. Art-making can serve as a meditative practice, reducing stress, anxiety, and cravings. It allows you to find moments of calm, focus, and inner peace amidst recovery challenges.
Connection and Support
Participating in art therapy groups or workshops offers you a sense of connection and support. Sharing your artwork and experiences with others who have gone through similar struggles creates a supportive community. Art therapy sessions provide a safe space for empathy, understanding, and validation, reducing feelings of isolation and fostering a sense of belonging.
Art therapy can help you navigate recovery. If you've been going through a rough patch, contact More Than Rehab today. We can help you explore the benefits of art therapy in your addiction recovery journey. Our dedicated team of professionals is experienced in utilizing art therapy as a powerful tool for self-expression, healing, and personal growth.
888-249-2191