Scientists are still learning how alcoholism affects heart health and blood pressure. According to a few John Hopkins University studies, moderate alcohol drinking may lead to a lower risk of dying from heart disease. Also, modest amounts of alcohol might help to slightly raise the levels of HDL or "good" cholesterol as per some studies. Does that mean, however, that alcohol consumption is a great habit and has no repercussions on your health? Not at all. Let us look at the ways alcoholism can make your blood pressure worse.
The association between moderate alcohol drinking and heart health is still debatable, with both supporters and naysayers offering evidence; the focus keyword, however, remains "moderate". Excessive alcohol drinking, on the other hand, has no positive side to it.
Too Much of a Good Thing
While short-term repetitive drinking can lead to temporary spikes in blood pressure and heart rate, long-term alcohol abuse and alcoholism may lead to chronic hypertension/high blood pressure and even cause heart disease. Addiction to alcohol is a very serious problem.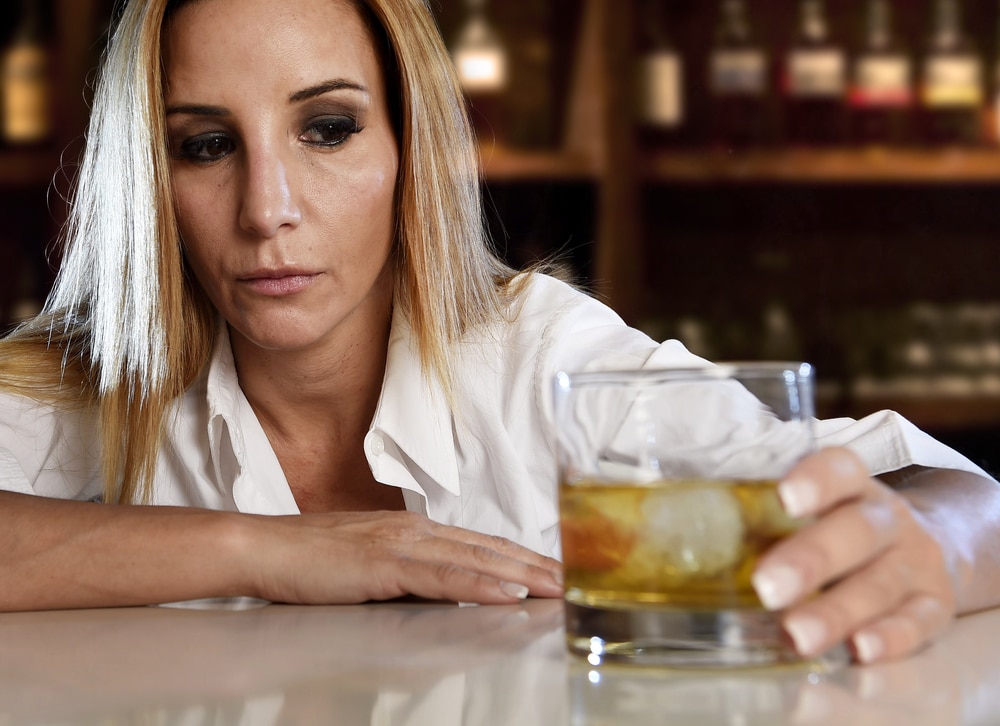 How Alcohol Affects My Blood Pressure?
Although the impact of alcohol consumption on the body depends a lot on age and risk factors, excessive drinking is never recommended for anyone. This is because alcohol abuse can lead to a myriad of direct and indirect impacts on the body and mind, which are detrimental not just to the individual but also to those who surround them.
Direct effects
Alcohol abuse and alcoholism can have pronounced direct effects in the short- and long-term, chief among them being a temporary increase in blood pressure, which may turn into long-term excess due to repetitiveness.
Indirect effects
There are several ways in which alcohol is known to affect blood pressure indirectly. Alcohol is known to affect the nervous system, which controls blood pressure. Also, it causes changes in pressure receptors that sense blood pressure levels, making blood pressure higher. Alcohol consumption increases cortisol levels – the stress hormone that increases blood pressure – and the level of calcium that lines arteries, making them more constricted, elevating blood pressure.
Scientists have also found that alcoholism affects the number of other vasoconstrictor hormones (artery-constricting hormones), impacts the retention of fluids filtered in the kidneys and leads to weight gain in the long-term, all of which contribute to increases blood pressure numbers.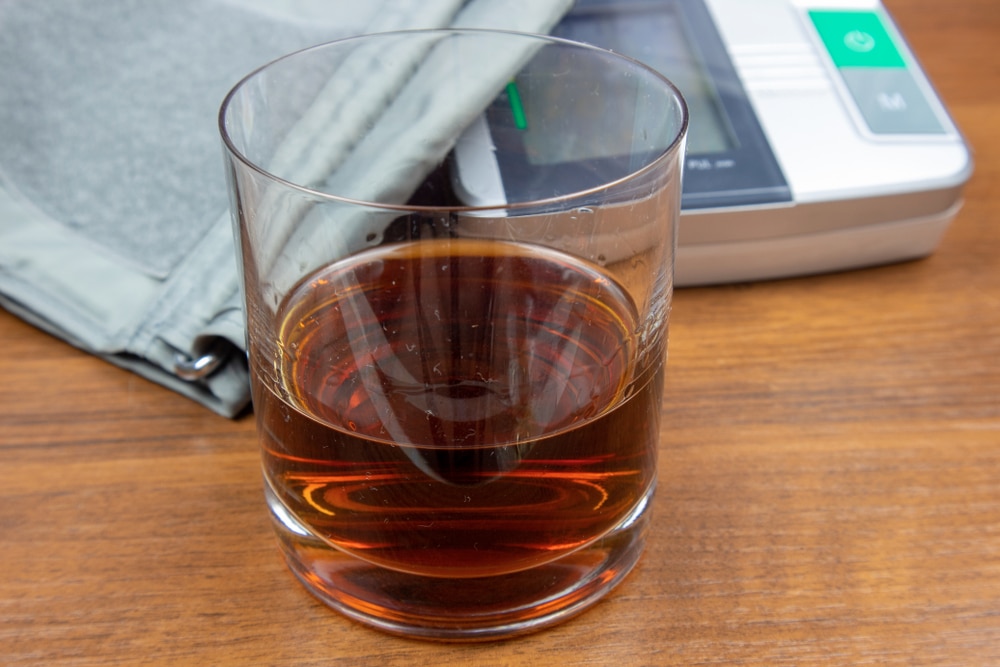 How Much Is Too Much with Alcohol?
The American Heart Association has outlined the definitions of excessive drinking, which one can revise to keep their consumption in check:
Moderate Drinking is defined as one drink per day for women, and two for men.
Heavy Drinking is more than three drinks a day for women, and two for men.
Binge Drinking is defined as four or more drinks within two hours for women, and five or more drinks within two hours for men.
According to AHA, one drink is equivalent to 12 oz of beer, 4 oz of wine, 1.5 oz of 80-proof alcohol and 1 oz of 100-proof alcohol. At the end of the day, however, it does not matter what is the beverage you pick – what matters is the amount.
Why is High Blood Pressure Bad for You?
There are two kinds of blood pressure numbers we are familiar with. The higher number denotes high blood pressure, which occurs when the heart is contracting and forcing blood into the arteries. The lower number stands for low blood pressure which occurs when the heart is in the relaxed phase.

Consistent and abnormally high blood pressure or hypertension is detrimental to our body because it damages the lining of arteries, causing them to harden (arteriosclerosis), ultimately leading to arterial blocking. The blockage of arteries subsequently leads to a blocked flow of blood to the heart (causing heart attack), brain (causing stroke) as well as other essential organs, leading to multiple-organ failure.
On the other hand, low blood pressure is not a long-term condition, though it also leads to poor health outcomes such as dizziness and pale skin. However, low blood pressure is easier to reverse and quicker to recover from.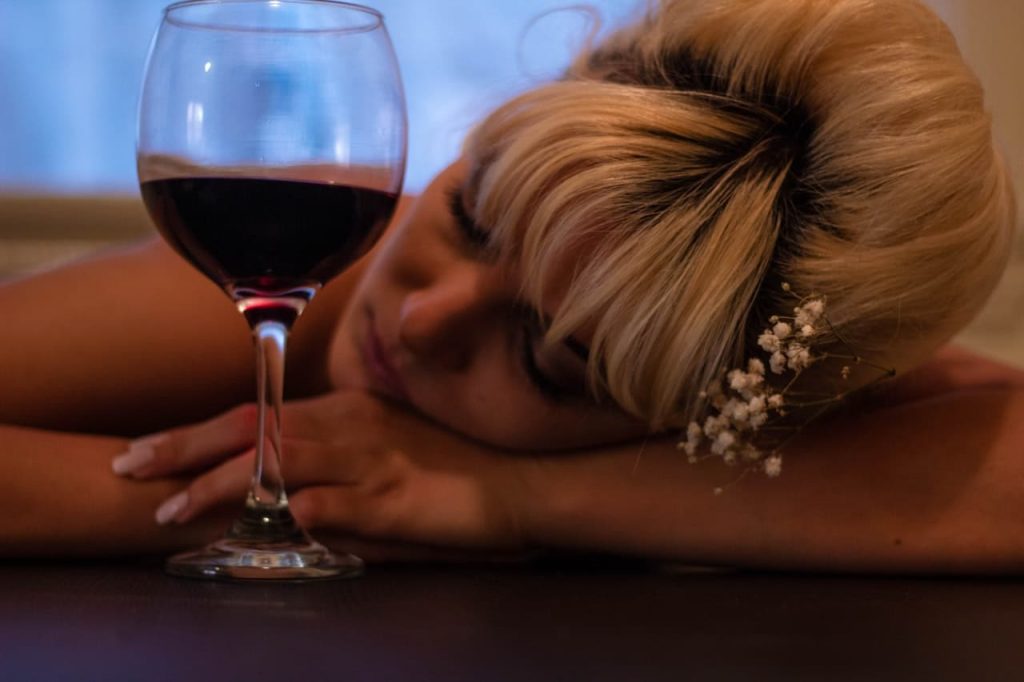 Alcoholism and Serious Diseases
Heavy drinking is directly associated with several poor bodily outcomes, including heart conditions such as cardiomyopathy which affects the heart's muscles. Excessive alcoholism may even lead to heart failure and stroke, apart from the most common complication - heart attack. The long list of problems associated with alcohol abuse also includes liver diseases, obesity and poor mental health.
Compared with people who did not binge drink, people who drank alcohol at twice the gender-specific binge drinking thresholds were 70 times more likely to have an alcohol-related emergency department (ED) visit, and those who consumed alcohol at 3 times the gender-specific binge thresholds were 93 times more likely to have an alcohol-related ED visit, says the National Institute on Alcohol Abuse and Alcoholism.
Alcohol intake can also specifically affect those who are on blood pressure medications. These medications usually come with side effects associated with low pressure – dizziness, loss of balance control and so on. Excessive alcoholism also impairs our sense of balance, which is why this combination can prove detrimental. Alpha- and Beta-blockers as well as Nitrates can interact dangerously with alcohol and should be avoided.
Reversing the Ill-Effects of Alcohol on Heart Health and Blood Pressure
The good news is that the ill-effects of alcohol abuse can be reversed if you take action at the right time. Studies show heavy drinkers who reduce their consumption to moderate can lower the upper blood pressure readings or systolic blood pressure by about 5.5 millimetres of mercury (mm Hg) and their lower readings or diastolic blood pressure by about 4 mm Hg.
That being said, one rule does not fit everyone when it comes to getting rid of alcoholism. Recovering from alcohol is as much a personal process as it is a medical one. It can lead to withdrawal symptoms, impact your mental health and cause visible changes to your body. However, with the combination of the right approach and evidence-based treatments from specialists, one can stop drinking and de-addict themselves effectively and holistically.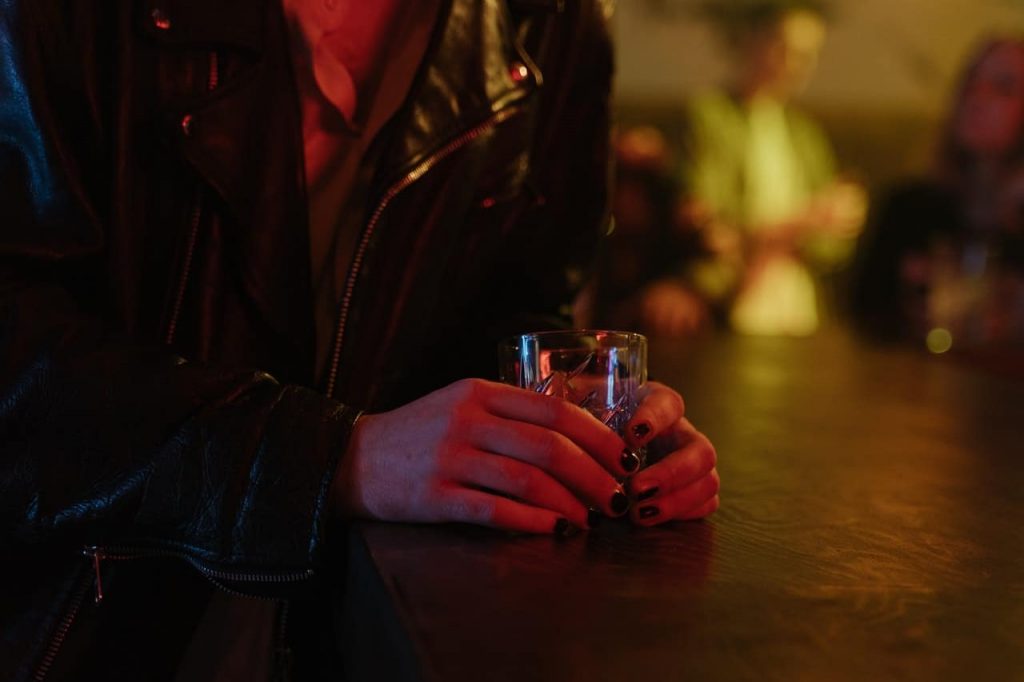 How Does More Than Rehab Help?
At More Than Rehab, we aim to provide quality care to those in need of all-inclusive and therapeutic modalities, helping individuals identify what is best for their recovery. Our team of a skilled and compassionate team of counsellors, psychiatric specialists and physicians who coordinate a comprehensive and individualistic plan for the recovery of individuals in need. Coupling our approach with cognitive behavioral therapy, More Than Rehab caters to the full spectrum of a person's addiction.
Alcoholism is one of the leading mental and physical issues affecting the United States today. However, it can be gotten rid of, and its impacts treated or reversed. It is upon you to make the best out of the opportunity to, for you might get only a chance at it. You can start your life afresh – we are just a click away.